davidn
KING'S QUEST 3: PART 8 (LAST)
Right, King's Quest III - you've been playing around with me for far too long but this time I'm going to finish you once and for all.
Right, so if you remember, we had arrived in our true home of Daventry, but it turned out to be just as deadly as the rest of the game. This location is a ruined version of one of the rooms from the first King's Quest - the door into the cave with the stairs to the clouds - which would have been a nice callback for players in the 1980s.
Having explored the possibilities of death by falling in the cave, let's go to the left instead this time.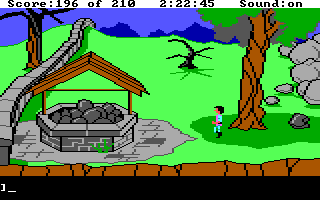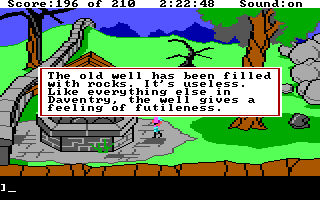 As futile as bothering to look up the correct word for "futility" in the dictionary. Again, this is a ruined room from the first game - they have taken some artistic licence with where these rooms are in relation to each other, but having vague memories of wandering around Daventry many years ago, this definitely gives off a feeling of... sadness.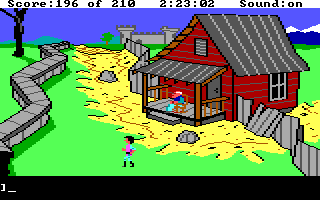 And this room to the north gives off a feeling of irritation, due to the infuriating whistling noise that plays repeatedly while you're in it. It's coming from that gnome, so let's talk to him in the hope that he'll stop.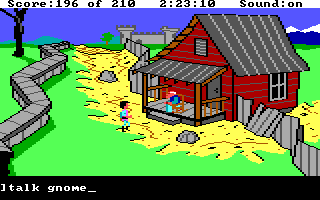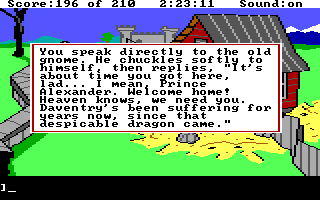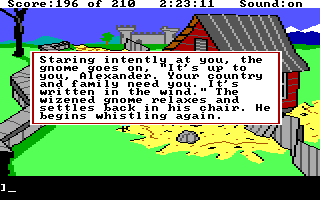 Fair warning, the game gets a bit wordy from here on. The castle is locked and we need to rescue Princess Rosella - got it. Apparently there's a time limit on how long we can take to rescue the princess once we land in Daventry, thus sort of bringing the timer into play again... I don't know what that limit is, but if it even exists, it's too long for anyone to realistically care about.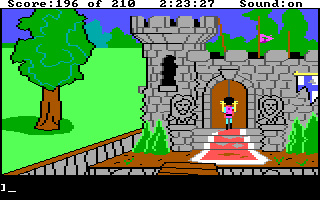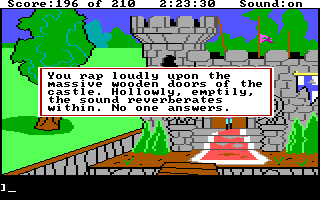 Yes, that's a locked castle all right. I suppose our only option is to go back and do what the gnome said.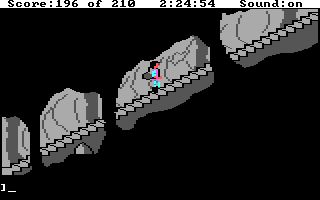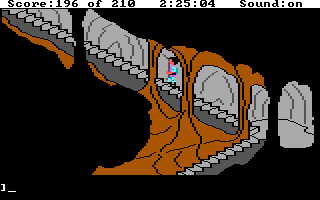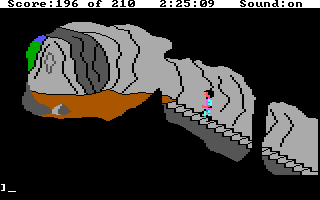 And three entire screens of tightrope-walking later, we get to the top - our diagonal controls get another workout here and it's really pretty simple to stick to the path without dying. In the VGA remake of the first King's Quest, they changed these screens into much more twisted pathways, having looked at the path up the mountain and thinking that it was a shining example of adventure gameplay.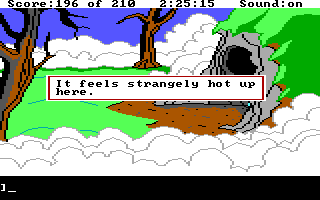 And here we are in the land of the clouds - which is feeling "strangely hot" for a place up above the cloud cover and directly exposed to the sun. It's probably nothing.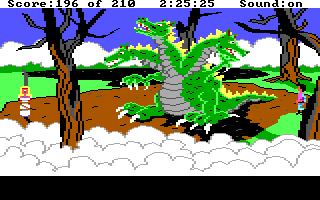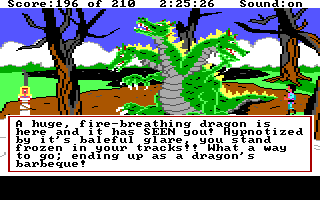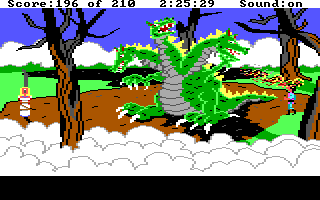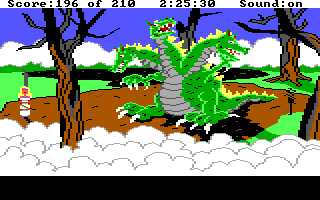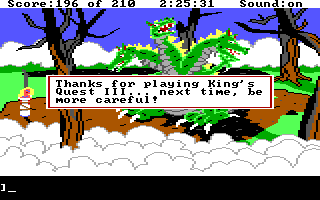 Oh, okay. So, our objective here has already been explained to us - we need to beat that giant three-headed dragon taking up most of the screen, rescue Rosella who's standing over there to the left, and that's pretty much it. But to even get on to this screen we're going to need some pretty serious sun-tan lotion.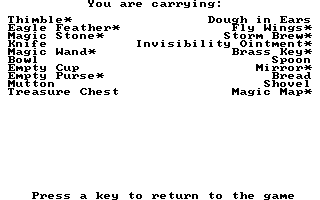 Incidentally, here's a reminder of how much junk we still have left over from our previous adventures. Personally I think it would have been reasonable for them to just not have restored the non-essential items when you reclaimed your loot from the treasure chest on the pirate ship - it's not as if any of the last three updates have really required anything in the way of puzzle-solving skills. Incidentally, I wonder if the magic map still works?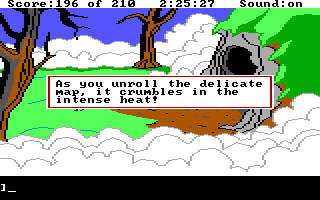 Hmm. I see.
I reloaded and tried the map out on a different screen in Daventry, and it actually behaves as it does in Llewdor! Locations get filled out as you visit them, and you can teleport around. It isn't useful at this stage, but it's interesting that they bothered to code the ability in.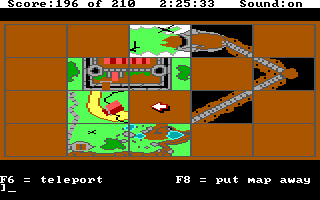 So - we don't have 9999-factor sun cream like I mentioned before, but we've got something that will just about take its place.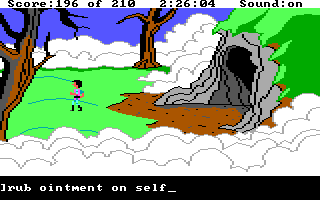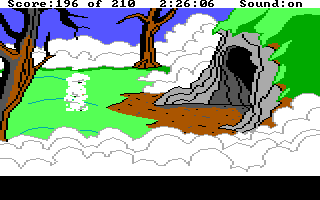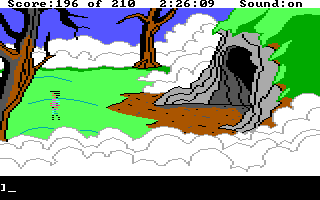 When you use the ointment that we prepared earlier, Gwydion becomes stripey (having rubbed it all over his clothes as well?) Let's take a closer look at that dragon.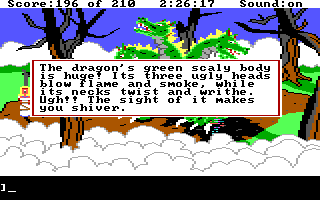 kjorteo
would probably love it. Still, our circumstances unfortunately dictate that this lizard has to die, and as long as you still have the manual, the method to achieve this is very simple.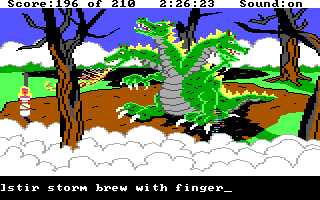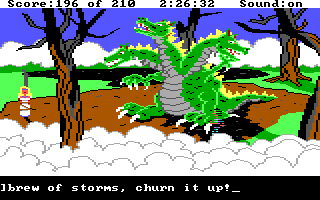 There really aren't any puzzles in the game at all once you get on to the pirate ship - everything relies on what you did in Llewdor. Specifically, if you gathered all the ingredients and made all the spells (and survived the totally unnecessary mountain obstacle course) you'll get past this section - otherwise, well, you're stuck with no way to continue unless you reload a much earlier save. In other words, it's classic Sierra.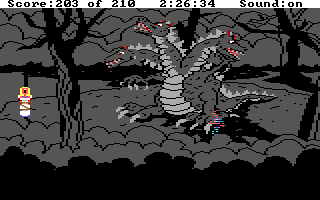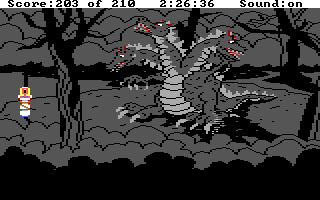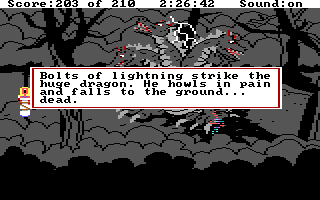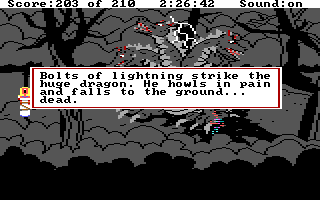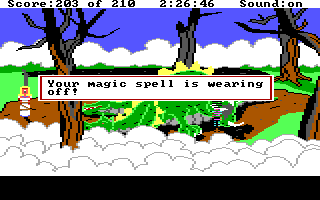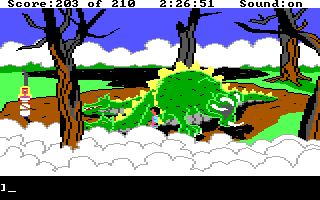 The screen's colours turn to grey and lightning flashes across the sky - it's a slightly more interesting moment than that makes it sound, as the game hasn't changed the appearance of a location while you're in it ever before. And then the invisibility wears off - I'm not sure if this is timed or if it always happens immediately after the storm. The second is what any reasonable person would think, but as has been made clear over the last seven parts, we're not dealing with reasonable people here.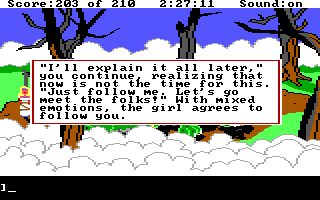 Hooray, dragon killed, princess saved.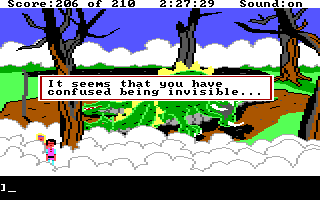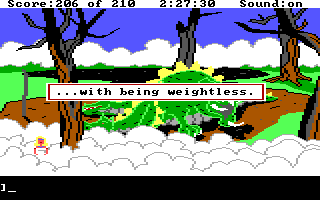 It is, of course, still possible to die - the message is the same whether you're actually invisible or not. I only include this because if you fall off here, Rosella continues her walking animation with her head bobbing up and down and it looks like she's laughing at you.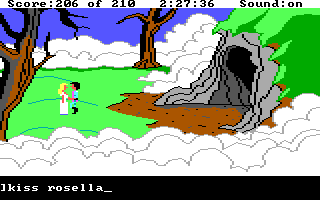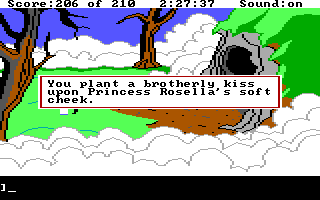 Have you heard of "protesting too much"? I wouldn't have thought this suspicious at all without prompting, but the inclusion of "brotherly. I said BROTHERLY" in the description just makes it sound weirder than it would otherwise.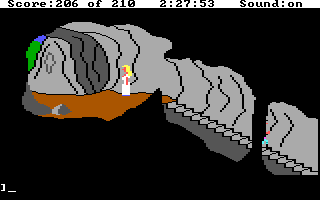 Rosella now follows us throughout the rest of the game. I didn't look at what happens when you try using the map to teleport - if you want to see that, do it yourself. She has difficulty navigating the stairs here and is wandering off on her own (as I would too, if I'd seen the kill rate of stairs around this place) but she's always right behind us when we enter a new screen.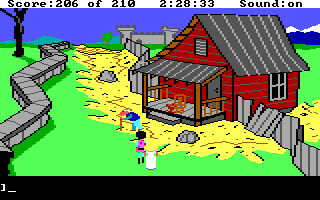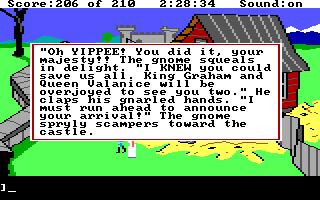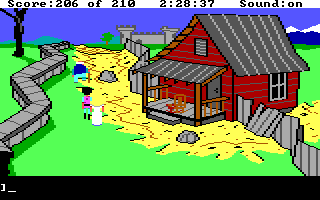 Thanks for your help, gnome. Walking north here is the last action we have to take in the game - everything plays out automatically from here on, so I'll let you enjoy the ending sequence we've earned (or more accurately, I earned).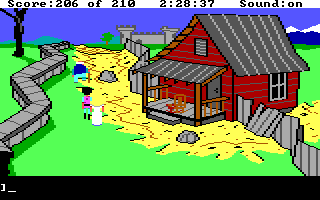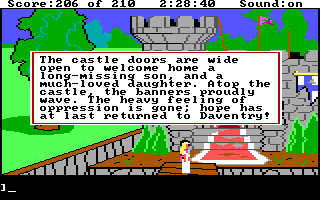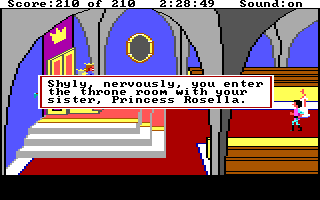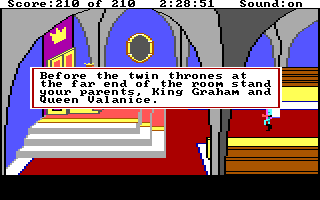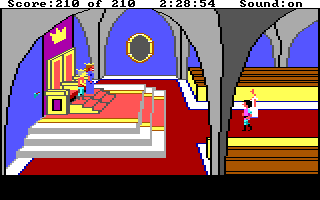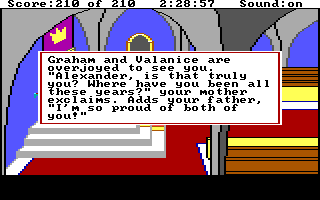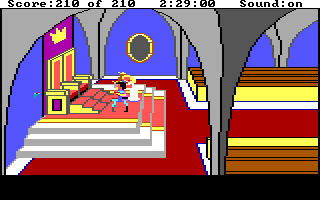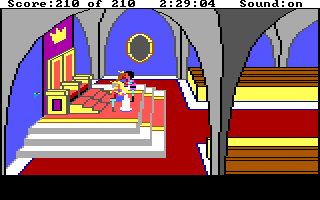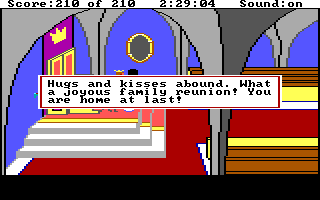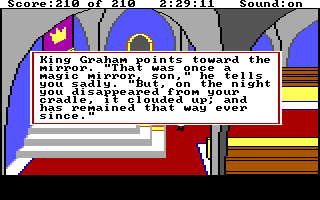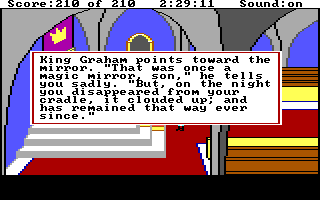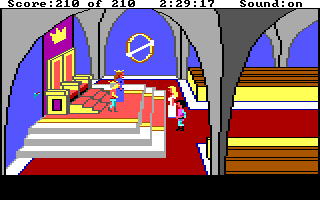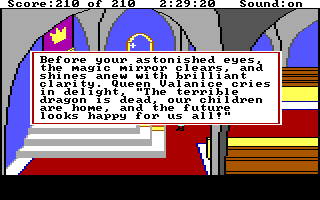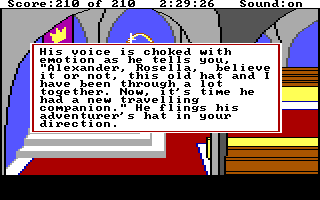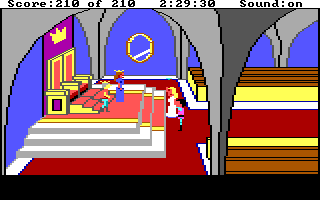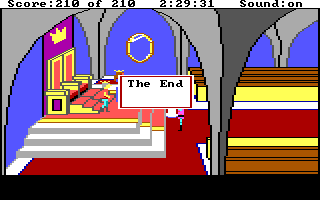 Yes! It's the end!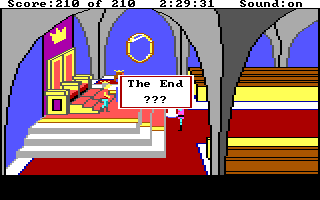 Oh, go away.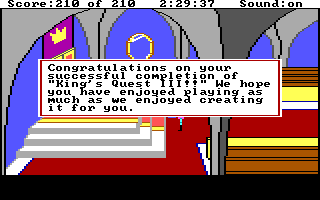 "Enjoyed" might be a bit of a strong term, but I definitely tolerated it. Thanks.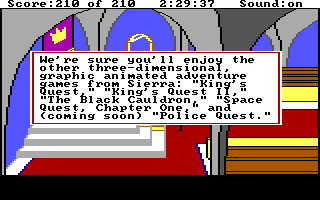 Evidently "three-dimensional" had a bit of a broad definition in those days.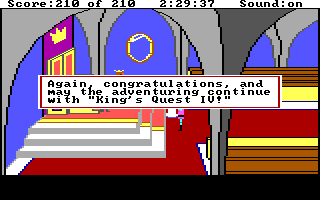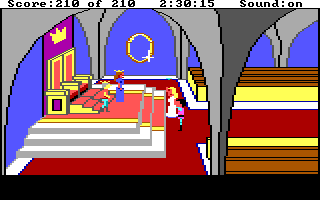 And that's King's Quest III! It's a game that starts off with a unique idea but then sort of forgets about it and stops being interesting halfway through. Absolutely everything once you get on to the pirate ship is just playing along with the game - you don't even need the shovel, you have to wait until you're near land, get your inventory, walk a tremendously long way across some mountains and use three spells along the way (if you made them during the actual "game" part of the game). It feels like the concept of dealing with Manannan O'Hanra-Hanrahan was thought up as the entire game first, and that they later realized that they had to bolt on an entire second section to get you to Daventry - a long stretch in which nothing really happens. I'd have liked to see much more made of that - indeed, when going into this playthrough I thought the entire game was based around it.
Still. That's the end! Thank you for watching along. Perhaps I'll do King's Quest IV next (but I doubt it).